The Interop-er's Guide to Nightlife in Champaign-Urbana
It's a little quiet this week as we're between semesters, but you should be able to find some fun about town. For a more complete run down of happenings you might try these local community calendars:
Music and Comedy
Saturday, May 19
Sunday, May 20
Monday, May 21
Tuesday, May 22
Music: The Vine Street Syncopators (jazz) @ the Iron Post, 7pm (downtown Urbana)
Wednesday, May 23
Thursday, May 24
Friday, May 25
Movies at the Art Theatre
Take in a quality movie experience in a vintage movie house,
The Art Theatre
in
downtown Champaign
. It looks like a particularly good week this week with a number of shows to choose from:
Yellow Submarine -- the classic animated Beatles feature
A Separation -- the Iranian film that took the Oscar for Best Foreign Language Film.
Higher Ground -- Vera Farmiga's film was a favorite at this year's Ebertfest.
La Fille Mal Gardee -- Ballet at the movies! (Sun. 1pm)
Juan of the Dead -- more zombies! This time, Cuban-style (opens Friday)
Best Exotic Marigold Hotel -- Remember Pune? Return to India with your favorite British pensioners. (Opens Friday)
Visit the
The Art Theatre
for show times and prices (which range from $5 for late night shows to $9 regular). BTW, you get can enjoy your film with a glass of wine, a beer, or a fresh cup of coffee.
Bars
Campustown, downtown Champaign, and downtown Urbana all offer a variety of choices to enjoy a drink and its accompaniments. (See the
Eating Guide
for general directions.) Many places appeal to some common hobbies, including:
Trivia nights -- check the events calendar.
Billiards -- While there may be some decent places to play pool in Campustown, I only know of these in downtown Champaign:
DJ/Dancing -- Downtown Champaign is perhaps the best place to find this; in particular, check the schedules at:
Karoke -- I know not of this thing you call Karoke, but I know it's out there: check the events calendar for several offerings this week.
Need a suggestion?
In Campustown: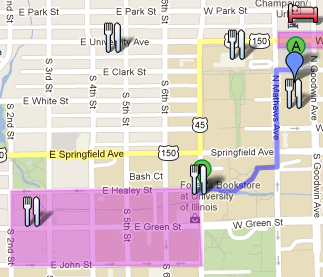 click map to see locations of suggestions shown below.
Murphy's

Decent bar food in a college atmosphere. Recommended if you need to hash out a standard over a pitcher of good beer.
Find It: north side of Green in the 1st block west of Wright.

Legends

one of many sports bars in the area
Find It: another block west from Murphy's on the same side of Green street.
This might be a nice place for a beer and college bar food if the weather is nice.
Find It: walk one block west on Green Street past Wright and turn left; you will find it in the 1st block on your left.
Another sports bar that is partial to Chicago teams.
Find It: just a little past The Clybourne.
Downtown Champaign

click map to see locations of suggestions shown below.
Cafe Kopi

A great place for a cup of espresso after dinner. Free wi-fi.
Find It: At the second light past the train underpass, turn right onto Walnut; it is on your left in that first block.

The Blind Pig

This English-style pub is a great place for a beer before or after dinner. Free wi-fi if you need to work on your talk for the next day.
Find It: At the second light past the train underpass, turn right onto Walnut; it is on your right in that first block.

The Blind Pig Brewery

Not to be confused with the The Blind Pig (above), this is my preferred brew pub in town. Try the brew sampler. Free wi-fi.
Find It: At the third light past the train underpass, turn right onto Neil; find it on your right one block up.

Destihl

the brew pub with food.
Find It: At the third light past the train underpass, turn right onto Neil; walk up two blocks to the next light at Main/Church and Neil. It is on the far left (NW) corner ground floor of the tall building in front of you.
Nice outdoor seating. (map)
Downtown Urbana
Black Dog Smoke and Ale House

Features a great and ever changing microbrew list; I recommend some barbeque to go with your brew.
Find it: